Technical Specifications
MODEL

V5MKI32-24WiFiR
U5MRS32-24

Cooling Capacity

24.000

Btu / h

Heating Capacity

26.000

Btu / h

Cooling Capacity Range

(10.990-28.300)

Btu / h

Cooling Capacity Range

7.03 (3.22-8.29)

kWatt
Heating Capacity

(9.280-29.500)

Btu / h

Heating Capacity

7.62 (2.72-8.64)

kWatt

Seasonal Efficiency

Cooling

In accordanceto EN14825

Pdesign

7.0

kW

Energy Class

A++

SEER

6.1

Seasonal Efficiency

Heating (Middle Zone)

In accordanceto EN14825

Pdesign

5.4

kW

Energy Class

A+

SCOP

4.0

Seasonal Efficiency

Heating (Warm Zone)

In accordanceto EN14825

Pdesign

4.9

kW

Energy Class

A+++

SCOP

5.0

Voltage / Frequency / Phase

220-240/50/1

V / Hz / Ph

Current Input Cooling / Heating

2.1-13.1/2.2-12.7

A

Power Input Cooling / Heating

480-2.930/500-2.850

W

Air Flow Volume (High / Medium / Low)

1.208/1.066/853

m3 / h

Noise Level Indoor unit (Low / Medium / High) (dB )

41/46/50

A

Noise Level Outdoor unit (dB )

62

A

Sound Power Level Indoor / Outdoor unit (dB )

61/65

A

Power Supply Wire Outdoor / Fuses (

3x2.5/1x16

No x mm2 / A

Signal Wires

3 x 1.5 & (2 x 1.0 Shield)

No x mm2

Dimensions Indoor unit WxDxH

1.068x675x235

mm

Dimensions Outdoor unit WxDxH

845x363x702

mm

Net Weight Indoor / Outdoor

26.8/66.8

kg

Liquid line - Gas line

3/8"/5/8"

Refrigerant / Charge

R32/1.50

kg

Outdoor Operation Temperature Range Cooling / Heating

-15~50 / -15~24

oC
MODEL

V5MKI32-36WiFiR
U5MRS32-36

Cooling Capacity

36.000

Btu / h

Heating Capacity

38.000

Btu / h

Cooling Capacity Range

(13.400-41.000)

Btu / h

Cooling Capacity Range

10.55 (3.92-12.02)

kWatt
Heating Capacity

(9.580-46.000)

Btu / h

Heating Capacity

11.14 (2.80-13.48)

kWatt

Seasonal Efficiency

Cooling

In accordanceto EN14825

Pdesign

10.5

kW

Energy Class

A++

SEER

6.1

Seasonal Efficiency

Heating (Middle Zone)

In accordanceto EN14825

Pdesign

8.7

kW

Energy Class

A+

SCOP

4.0

Seasonal Efficiency

Heating (Warm Zone)

In accordanceto EN14825

Pdesign

10.5

kW

Energy Class

A+++

SCOP

4.9

Voltage / Frequency / Phase

220-240/50/1

V / Hz / Ph

Current Input Cooling / Heating

4.1-19.6/2.8-19.8

A

Power Input Cooling / Heating

875-4.500/730-4.550

W

Air Flow Volume (High / Medium / Low)

2.160/1.844/1.431

m3 / h

Noise Level Indoor unit (Low / Medium / High) (dB )

42/47/51

A

Noise Level Outdoor unit (dB )

65

A

Sound Power Level Indoor / Outdoor unit (dB )

61/67

A

Power Supply Wire Outdoor / Fuses (

3x4.0/1x25

No x mm2 / A

Signal Wires

3 x 1.5 & (2 x 1.0 Shield)

No x mm2

Dimensions Indoor unit WxDxH

1.650x675x235

mm

Dimensions Outdoor unit WxDxH

946x410x810

mm

Net Weight Indoor / Outdoor

39/66.8

kg

Liquid line - Gas line

3/8"/5/8"

Refrigerant / Charge

R32/2.40

kg

Outdoor Operation Temperature Range Cooling / Heating

-15~50 / -15~24

oC
MODEL

V5MKI32-50WiFiR
U5MRT32-50

Cooling Capacity

48.000

Btu / h

Heating Capacity

55.000

Btu / h

Cooling Capacity Range

(16.917-51.559)

Btu / h

Cooling Capacity Range

14.2(4.96-15.11)

kWatt
Heating Capacity

(12.989-61.641)

Btu / h

Heating Capacity

16.1(3.81-18.07)

kWatt

Seasonal Efficiency

Cooling

In accordanceto EN14825

Pdesign

14.2

kW

Energy Class

A++

SEER

6.1

Seasonal Efficiency

Heating (Middle Zone)

In accordanceto EN14825

Pdesign

11.5

kW

Energy Class

A+

SCOP

4.0

Seasonal Efficiency

Heating (Warm Zone)

In accordanceto EN14825

Pdesign

12.5

kW

Energy Class

A+++

SCOP

5.1

Voltage / Frequency / Phase

380-415/50/3

V / Hz / Ph

Current Input Cooling / Heating

1.77-9.29/1.6-10.27)

A

Power Input Cooling / Heating

1.158-5.703/1.026-6.200

W

Air Flow Volume (High / Medium / Low)

2.329/1.930/1.417

m3 / h

Noise Level Indoor unit (Low / Medium / High) (dB )

46/50/54

A

Noise Level Outdoor unit (dB )

66

A

Sound Power Level Indoor / Outdoor unit (dB )

66/72

A

Power Supply Wire Outdoor / Fuses (

5x2.5/3x20

No x mm2 / A

Signal Wires

3 x 1.5 & (2 x 1.0 Shield)

No x mm2

Dimensions Indoor unit WxDxH

1.650x675x235

mm

Dimensions Outdoor unit WxDxH

952x415x1.333

mm

Net Weight Indoor / Outdoor

41.2/106.7

kg

Liquid line - Gas line

3/8"/5/8"

Refrigerant / Charge

R32/2.80

kg

Outdoor Operation Temperature Range Cooling / Heating

-15~50 / -15~24

oC
MODEL

V5MKI32-60WiFiR
U5MRT32-60

Cooling Capacity

54.000

Btu / h

Heating Capacity

62.000

Btu / h

Cooling Capacity Range

(18.000-58.000)

Btu / h

Cooling Capacity Range

16.0(5.28-17.0)

kWatt
Heating Capacity

(15.000-67.000)

Btu / h

Heating Capacity

18.2(4.4-19.64)

kWatt

Seasonal Efficiency

Cooling

In accordanceto EN14825

Pdesign

16

kW

Energy Class

A++

SEER

6.1

Seasonal Efficiency

Heating (Middle Zone)

In accordanceto EN14825

Pdesign

12

kW

Energy Class

A+

SCOP

4.0

Seasonal Efficiency

Heating (Warm Zone)

In accordanceto EN14825

Pdesign

12.5

kW

Energy Class

A+++

SCOP

5.1

Voltage / Frequency / Phase

380-415/50/3

V / Hz / Ph

Current Input Cooling / Heating

1.9-10.3/1.6-10.8

A

Power Input Cooling / Heating

1.227-6.296/1.022-6.546

W

Air Flow Volume (High / Medium / Low)

2.454/1.834/1.426

m3 / h

Noise Level Indoor unit (Low / Medium / High) (dB )

42/47/54

A

Noise Level Outdoor unit (dB )

66

A

Sound Power Level Indoor / Outdoor unit (dB )

68/74

A

Power Supply Wire Outdoor / Fuses (

5x2.5/3x20

No x mm2 / A

Signal Wires

3 x 1.5 & (2 x 1.0 Shield)

No x mm2

Dimensions Indoor unit WxDxH

1.650x675x235

mm

Dimensions Outdoor unit WxDxH

952x415x1.333

mm

Net Weight Indoor / Outdoor

41.4/111.3

kg

Liquid line - Gas line

3/8"/5/8"

Refrigerant / Charge

R32/2.95

kg

Outdoor Operation Temperature Range Cooling / Heating

-15~50 / -15~24

oC
MODEL

V6MKI32-18WiFiR
U6MRS32-18

Cooling Capacity

18.000

Btu / h

Heating Capacity

19.000

Btu / h

Cooling Capacity Range

(9.250-19.000)

Btu / h

Cooling Capacity Range

5.28 (2.71-5.57)

kWatt
Heating Capacity

(8.250-21.500)

Btu / h

Heating Capacity

5.57 (2.41-6.30)

kWatt

Seasonal Efficiency

Cooling

In accordanceto EN14825

Pdesign

5.3

kW

Energy Class

A++

SEER

6.1

Seasonal Efficiency

Heating (Middle Zone)

In accordanceto EN14825

Pdesign

4.1

kW

Energy Class

A+

SCOP

4.0

Seasonal Efficiency

Heating (Warm Zone)

In accordanceto EN14825

Pdesign

5.0

kW

Energy Class

A+++

SCOP

5.1

Voltage / Frequency / Phase

220-240/50/1

V / Hz / Ph

Current Input Cooling / Heating

3.2-8.2/2.7-7.3

A

Power Input Cooling / Heating

670-1.850/540-1.640

W

Air Flow Volume (High / Medium / Low)

880/760/650

m3 / h

Noise Level Indoor unit (Low / Medium / High) (dB )

34.5/38.5/41.5

A

Noise Level Outdoor unit (dB )

55

A

Sound Power Level Indoor / Outdoor unit (dB )

58/64

A

Power Supply Wire Outdoor / Fuses (

3x2.5/1x16

No x mm2 / A

Signal Wires

3 x 1.5 & (2 x 1.0 Shield)

No x mm2

Dimensions Indoor unit WxDxH

1.068x675x235

mm

Dimensions Outdoor unit WxDxH

800x333x554

mm

Net Weight Indoor / Outdoor

28.0/33.7

kg

Liquid line - Gas line

1/4"/1/2"

Refrigerant / Charge

R32/1.15

kg

Outdoor Operation Temperature Range Cooling / Heating

-15-50 / -15-24

oC
Benefits
Error Alarm Port
Take the whole control of you unit! Thanks to the error code that will appear if an error occurs, you can always be safe and sure for the appropriate and most efficient operation of your air conditioner.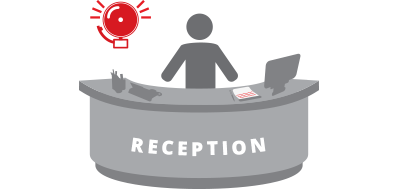 Front Desk Control On/Off(Optional)
With a smart control board, air conditioners can be turned on/off via long distance control signals.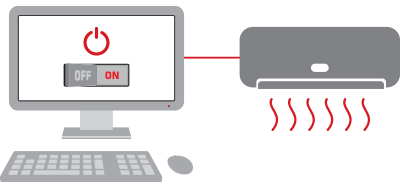 Central Control Management (Optional)
The centralized multi-functional device can control up to 64 indoor units within a maximum connection length of 1200m. Control your air conditioner, set the temperature you want and select the mode you desire. Ideal for hotel & business units.
More
Flexible Installation
The upgraded series of Inventor outdoor Multi units, ensure great flexibility to install up to 5 indoor units of every kind. Maximum total pipe length up to 75m.
Wide Operation Range
With up to 25 stages (F1-F25) compressor frequency. The frequency range is increased as much as 70%, allowing the system to run smoothly. Offers accurate results for a comfortable enviroment with the greatest energy savings.
Auto Error Diagnosis
Once abnormal operation or parts failure happens, the unit will shut off automatically to protect the system. Meanwhile it will indicate protection or error code for fast service.
Auto Restart
If the air conditioner breaks off unexpectedly due to the power cut, it will restart with the previous setting mode automatically when the power resume.
Smart Controller
Take advantage of the 4 choices to adjust the indoor unit's fan speed and benefit from the Filter Cleaning Reminder mode, the Louver Position Memory, the Temperature Compensation sensor and the Higher/ Lower Temperature settings to create the ideal conditions in your place.
Media Library - Floor Ceiling ac
User, Remote Control & Installation Manuals - Energy Labels - Pdesign Test Reports - Service Manuals - High Resolution Photos